---
My father, Richard W. (Dick) Taylor was a Liaison Pilot in the Army 417th Field Artillery during WWII and served in the European Theater in 1945. In 2013, at the age of 91, he recorded his recollections of his service with biographer Sabra Gertsch. Those recordings were subsequently transcribed. I have edited those transcripts slightly in order to correctly arrange the chronology of the events and I also made a few minor corrections to the original transcripts to correct grammatical errors. These are his words with only a few exceptions.
Stephen R. Taylor, May, 2020
The field artillery branch in the US Army had two locations for training pilots to be forward observers in small planes: Pittsburg, Kansas, and Denton, Texas. The beginning of the field artillery observation from small airplanes was during Louisiana maneuvers that took place in the early '40s in Louisiana where the Army asked several builders of small planes to furnish examples of their airplanes that could be used in the maneuvers to determine the effectiveness of each of the airplanes. They had Piper, Aeronca, Stinson, Taylorcraft, Vultee.
There's a story about that in a document in my library. I'll just put the word "Grasshopper" down here as one word that was used to portray the planes. And from that group of Army maneuvers, they learned the adjustment and fire from a low-flying airplane was very effective, very beneficial. So, they ordered airplanes from a few select builders.
I reported to Fort Sill, Oklahoma in 1943 to attend the Officer Candidate School, Class number 59.
When I was at Fort Sill, training before being commissioned as a second lieutenant, we were sent out to the artillery ranges to adjust the artillery fire from the ground, which would have been the method used prior to the introduction of the Grasshopper. The technique for adjusting fire was the same whether the observer was on the ground or in the air. Same language used. Same adjustment provided for the laying of the artillery pieces.
On 3 June 1943 I was appointed and commissioned in the Army of the United States as second lieutenant for the field artillery. And on the same date, I was assigned to the field artillery replacement center at Fort Bragg, North Carolina, with 10 days of delay en route plus the travel time. That's the way the order was.
Fort Bragg was called a "repple depple": Replacement and Training Center.
I was assigned to the field artillery, the third field artillery regiment for special duty with field artillery battery C8. And on the 28 September 1943 I was sent to Camp Swift, Texas, and reported to the commanding officer of the third Army Mine school. Camp Swift not later than 3 October to attend a course of instruction and upon completion return to Fort Bragg.
I thought, "When I get back, I'd sure like to NOT have that on my record." I hoped to not have to do that - Mines was just a better name for "booby traps".
In November, I went on special-duty assignment to the third field artillery training regiment, which was effective on 23 November. I was assigned to the Department of Air Training, Field Artillery School at Fort Sill, Oklahoma. So, this is the second time I've been in Fort Sill – this time was spent training prospective artillery candidates.
In January 1944 I was send to the Field Artillery Air Training School as student officer
"...training pool in Fort Sill, will proceed to Pittsburg, Kansas, and report to the commanding officer second Army Air Force liaison training detachment no later than the 13th, for 10 weeks for the purpose of pursuing the basic flying training course."
So here I'm introduced to flying . . . I actually took my first airplane ride on January 6, 1944.
On January 13, I was assigned to the Field Artillery School flight, Fort Sill, attached to the second Army Air Force liaison training detachment Pittsburg class 44–EL 6 for a course of instruction in the elementary liaison pilot training. Approximately 9 weeks.
Pittsburg, Kansas, was one place, and the other place was in Denton, Texas. The purpose of the training in Pittsburg, Kansas, was to teach you how to fly. The training followed previous civil aircraft training in that there were classroom sessions along with the flying sessions on an expedited timeline. From my first flight lesson to my first solo flight was 14 days and in those 14 days I logged eight hours of dual instruction before soloing. And then 60 hours by the time I graduated from pilot school with the liaison wings. That's a wing with an L on it.
.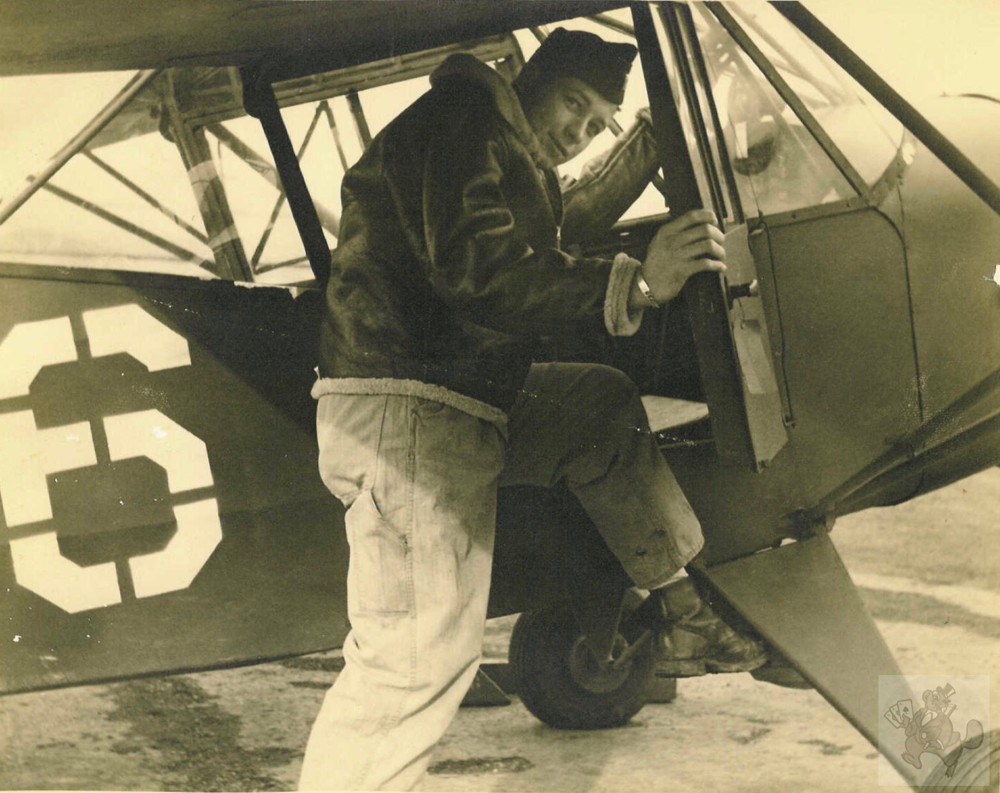 The wind and its effect on the airplane was the biggest surprise to me. The Grasshoppers were very small, very lightweight—sometimes like a kite in the strong Kansas and Oklahoma winds.
I was excited to be flying. I had studied Engineering at Purdue, so it was really easy to learn how to fly. Different instructors had different techniques. I understood it as well as it could be understood. But for my time through it, it was easy, and I was trying to perfect my ability to hit the same spot every time, coming around to land. We got through that pretty easy, and so the instructor would like to go out and do loops and barrel rolls, so we did a few of those things. I think the instructors got bored trying to teach somebody how to fly, and that was just a happy way to get into it.
I felt they were very good instructors. One guy had real lightweight shoes on with a thin sole, he says, "so you could feel the rudder pedals". And the next guy had thick-soled shoes and he said, "Well, that doesn't make any difference." I think one could fly just as well as the other one could.
I got acquainted with a lot of the different instructors. I was able to converse with all of the instructors quite well, and I didn't feel like it was a very tough assignment to go take a check ride. It helped me to be relaxed because I played basketball with them. It just added to my confidence that, "I know these guys; they can't give me something up there in the airplane that I can't do."
It was not a great big thing. I think learning to fly was awfully easy for me, and I don't think I was any smarter than the next guy, but I'd had all the training in terms of Engineering and ground school
Before you graduate from this artillery pilot school, you had to be checked by the Air Forces segment assigned there. And I don't know how they liked their job, but it was flying little airplanes. And I'm sure most of the guys in the Air Force assigned thought they were going to be fighter pilots or something; therefore, it would be easy for them to get bored about checking out these guys in little airplanes.
On 8 March 1944 the faculty board of the contract pilot school for this training said: Approved to be rated as a liaison pilot effective upon graduation. There were 41 that were approved, and 15 were not approved. Gives you some idea of what the washout rate was at that time.
Then on 10 March: rated pilot effective 17th of March.
From the first flight on January 6, 1944 until March 10, 1944, I logged a total of 60 hours in 
L-4 and L-2 airplanes.
When we left Pittsburg, this is the Second Army Airfield Flight Training Department, on 12 March, I had 29 hours and 56 minutes of dual, and 30 hours and 10 minutes of solo certified by the flight dispatcher and operations clerk.
On the 13th I was relieved from temporary duty assignment and assigned to report no later than 18 March to the Fort Sill Field Artillery School. The school extraction said that I would be on regular and frequent aerial flights. And this is the first time that this occurred. I knew that Hap Arnold had changed the assignment of people in the Air Corps to do the field artillery observation.
Organic air observation for field artillery: That's what this training was all about and what the assignments were in all of the organizations.
I was assigned to a field artillery pilot course number 70 at Fort Sill. It started 20 March 1944, and the closing date was 6 May. So that's how long I was there. It was all about learning to land on a road or a very short field.
All right, so now we go back to Fort Sill, which is the field artillery school, and I'm going to take a course in field artillery observation. And part of that is learning how to use the airplane under unusual circumstances. When you get into combat, you're going to be 
required to land on a field that's just been prepared. Maybe the rocks have been picked up and that's all, but it will be marked at both ends, usually with a white banner of some kind. And you won't have a very long runway. So, it's a matter of learning to touch the tail wheel down as soon as you can after passing the white banner at the end and stopping in the shortest distance you can. So here's the challenge of being able to fly slowly. Fly fast enough that you're not going to stall the plane. But slow enough so that you're not going to run off the other end. And the challenge of that is how much wind is going to be coming in your face and what the consequences are if you have to land there without wind. You've got to be sure that you land as quickly as you can near the first end of the runway.
Each day we would take off from the main base where all of the airplanes are hangared and sent out to auxiliary fields, which were set up in a fashion to have a short runway length. Some with inclines. Some with obstructions to the approach—like over trees or in hilly country. So that's what you are learning is how to get the most performance out of the airplane and still be safe. And there are other places to land on a prepared runway, like, land on a road. So that would be taught. And how to land on a curved road would be taught. So that when we left there, we could go to an organization that was prepared to go overseas and use whatever capability we had.
So that was a very interesting part of the artillery school: to test your skills and to demonstrate your skills to a check pilot. You'd first have instructor pilots that taught you the various techniques. And then you really didn't go off and do it on your own because they wanted to teach you every day something new and different. One of the most comfortable things—they had a big polo field there at Fort Sill, beautiful grass that was about four inches high.
So, from March to June, I was there. And one thing I didn't talk about was once you get through all that training, you are in a pool waiting to be assigned. You are now a credited liaison pilot, which is the pilot in the field artillery to adjust the fire.
At Fort Sill, they put a lot of time onto those airplanes. And since it was in training, some of them got damaged. Either scrape a wingtip or break a landing gear or something. So they were overhauling the airplanes a lot. Instead of sitting around, twiddling our thumbs, they put us in the shop. We learned all the things about small airplanes that were helpful to me in later years. How do you pack a wheel bearing? How do you put dope on an airplane to make the skin tight, on a fabric airplane? It was really a good education for the work in the Army. You're off someplace and you've got to fix your own airplane. You don't have time to send it back to the depot; you've got to fix it. That's not course material; that's a practical aspect of the training we got.
Then you go out into the artillery range, and you do these precise adjustments of the artillery shell. You see this shell go off . . . You see where it is with regard to the target, and you measure that angle either by your thumb or your finger or your fist. You're telling them how much of an error there is. They adjust the artillery piece to try to move it where you say. So that's the target, and you've seen the burst over here. So you tell them 50 mils left. They try to adjust it 50 mils. And suppose my judgment was that that was 50 mils, they'd 
adjust it, and it would go up over here. Then I'd say, "10 mils right." So if you get that close, you say, "Fire for effect." Now everybody in the group fires. Or if you haven't done a good job, you may have to let them fire once more to see if, in fact, your final adjustment put the shell on the target, and then you would fire for effect.
I completed that schooling on May 6, 1944, flying L-4Bs, completing 50 hours
Then I was assigned to a field artillery group, the 417th Field Artillery Group, and we were assigned to Fort Sill and began flying May 29 in 1944, and that was until June 2, 1944. Only nine hours of flying.
In June, I'm released from the attachment at Fort Sill and assigned to the 417th Field Artillery Group in Camp Breckinridge, Kentucky. The flying started at Camp Breckinridge on June 19 and lasted through September 19, 1944.
The whole group was transferred back to Fort Sill, on 11 September, as a permanent change of station. We got there by rail on or about 22 September, and there were five officers and 93 men. The whole group was 45 officers and 485 enlisted men assigned to the R and S commander as "school troops." Gus Albert, a captain at the time, was the air officer. Two weeks later, I was promoted from a second lieutenant to a first lieutenant. I was 23
 years old. November 1944.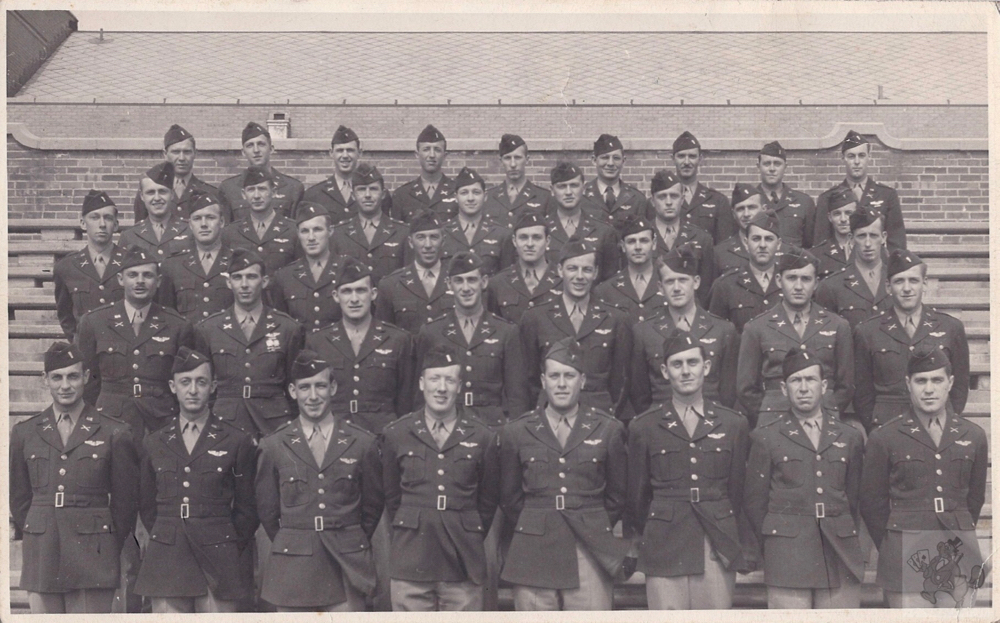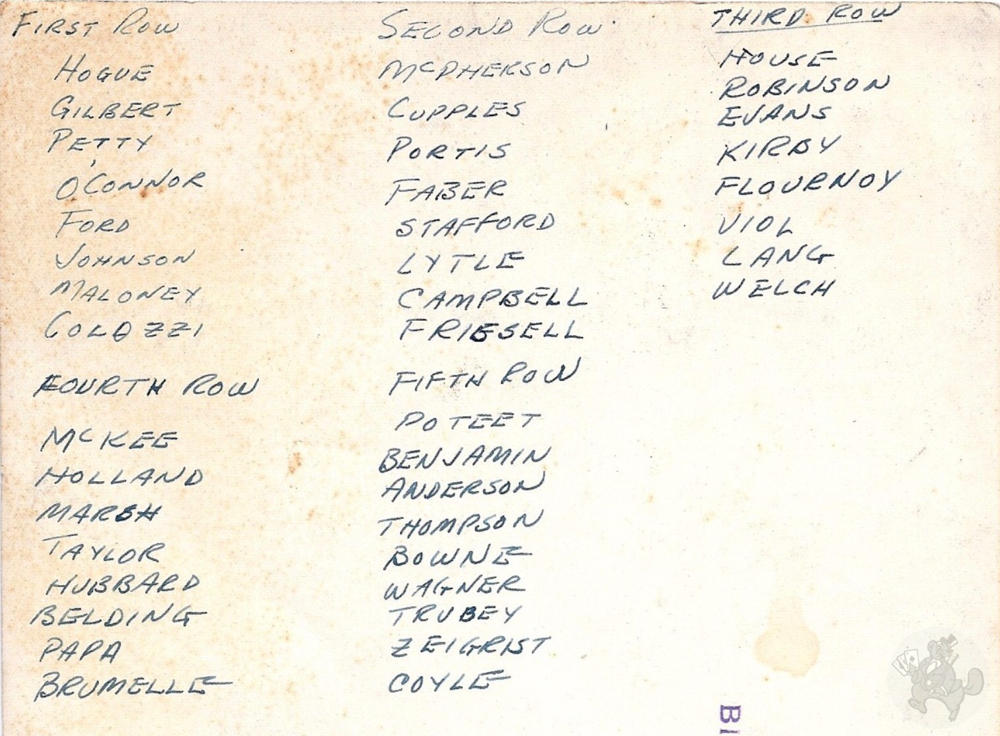 On 8 November, I was named with a group of other officers: "...will proceed on temporary duty to Goodfellow Field at San Angelo, Texas. Report to commanding officer on 14 November for the purpose of attending a course of instruction in instrument night flying in class number 44 for three weeks. Upon completion return to the proper station." On the 14th I was "attached to section H of the 253rd Army Air Force Base Unit. Return from section L on or about 8 December and proceed back to Fort Sill, Oklahoma. "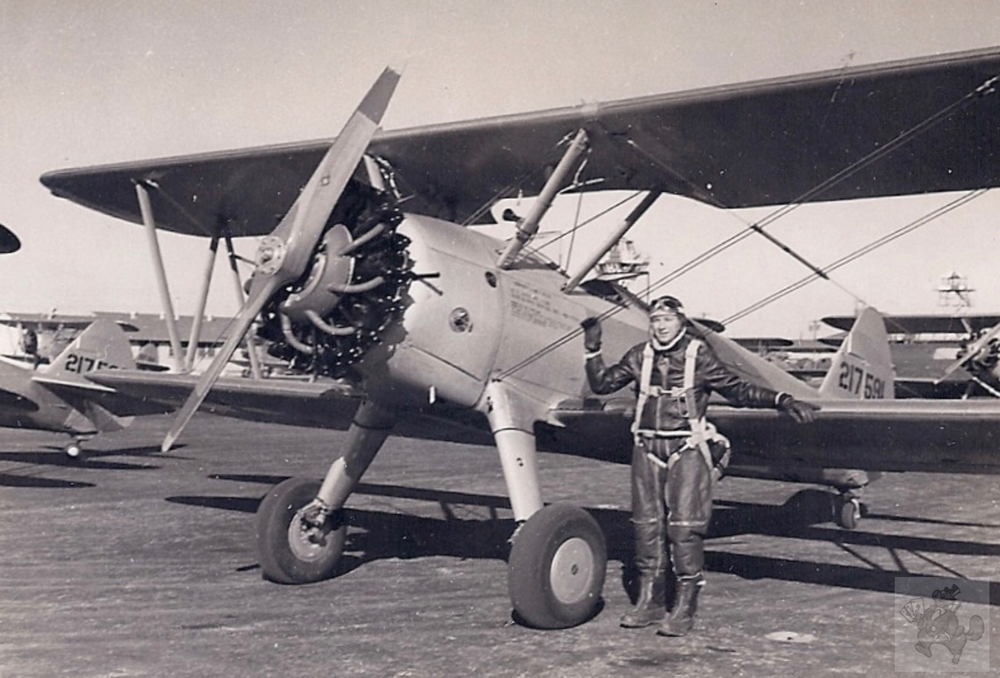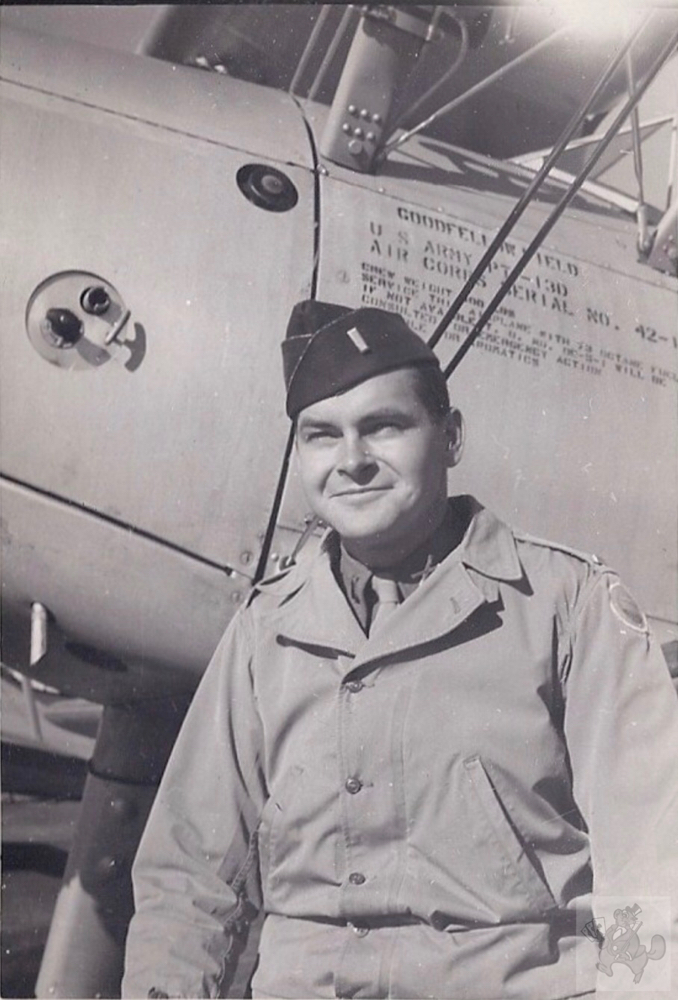 So, I went to instrument night-flying school in San Angelo, Texas, at Goodfellow Field, started flying there on November 15, 1944, and continued flying until December 6. I was flying the PT-13D Stearman there and in addition to flying that airplane, we were being trained to fly instruments in a Link Trainer.
We were taught how to fly on instruments and how to fly at night. For Instrument training, we would get in the biplane and put a hood over the front cockpit, and the instructor would be in an open cockpit behind you and we would go do certain maneuvers with radio aids as a means of navigation. And just tooling around in the sky, the instructors would get bored. So they taught us a few other things. This is where I learned how to do a snap roll; it's an 
aerobatic maneuver that is much more violent than just doing a loop or spin. You fly the airplane up near the stall, kick in the rudder violently and the aileron at the same time. It causes the lift on one wing to be lost. The airplane "snaps" around the roll much like as in a spin, but horizontal. A snap roll was something that was an aggressive aerobatic maneuver and this got your adrenaline going, because it was sort of unpredictable. You had to do it correctly to make it snap in the first place. It was a good instructive maneuver in that, if you mishandled an airplane, you are in trouble. That's what we learned about that.
For night training, you were given certain places to go to solo at night. You didn't do that under the hood. You're trying to figure out from the lights on the ground and the highways where you are! The first thing is, you don't want to get lost; that's the fastest way to lose your wings. And honest to Pete, going on cross-country trips, it was really a laugh, because it was so easy to do! But if you don't pay attention, and you've never been to a site before, it's easy for some people to get lost. Well, if you get lost now, what do you do? You're not familiar with other landing sites. Sometimes they had to send another plane out to locate the guy who is lost. He might land on the road someplace. If somebody got lost, they had to wear a rope around their neck; they were made fun of in camp.
At Goodfellow Field, when you did your night cross-country, it was so cold. They issued us these sheepskin-lined uniforms to put on, and you think that's going to be okay. But you still got so cold, you just didn't know how you were going to make it. So, everybody put their seat down as low as they could. So low that the edge of the cockpit's up above you, and you are flying on instruments, because that's what the school was all about. And you wonder why we didn't run into each other! Everybody went off at the same time! It was always a wonder to me how everybody flew at night, going along the same course, maybe about three or four waypoints and came back and we didn't have any collisions. I guess they were dispatched every five minutes or something like that. Thinking about it afterwards, we all thought that was the dumbest thing ever, because you're not worried about safety; you're worried about warmth!
I was then reassigned back to Fort Sill and that was the end of the training. We soon went to Camp Kilmer, New Jersey, to get on a boat and go overseas.
"Will proceed from Camp Kilmer, New Jersey, on 2–3 February to N. River terminal New York, thence to an overseas destination aboard a ship labeled NY 234." And then there's another order that they changed the 2–3 February to 3–4. "Amendment number one on this to this movement, the order is dated 1 February: certify that the personnel listed below did embark at New York USA on the HMS Arawa."
HMS Arawa; that's the name of the ship that took me to Europe. We "debarked at Avonmouth, England, on the 17th of February." A two-week trip across the Atlantic: 13 days. There were only five air officers on this particular ship and there were a lot of enlisted men down in the holds. What I remember is that the other officers taught me how to play bridge. I remember each one of these guys: one major, two captains, and Bill Kylie who was a first lieutenant - younger than I was.
On March 3, 1945, we left Southampton at six o'clock in the morning. On arriving in France, I went over and opened up a crate and put my airplane together. It comes off the ship in a crate, one of those 8' x 8' x—I don't know—20 or 30 feet long. The first flight I made in Europe, was in Rouen, France, on March 15, 1945. It was an L-4J. We were there long enough to put the airplane together and do local some flying. Then on April 1, 1945, we flew to Cologne, Germany.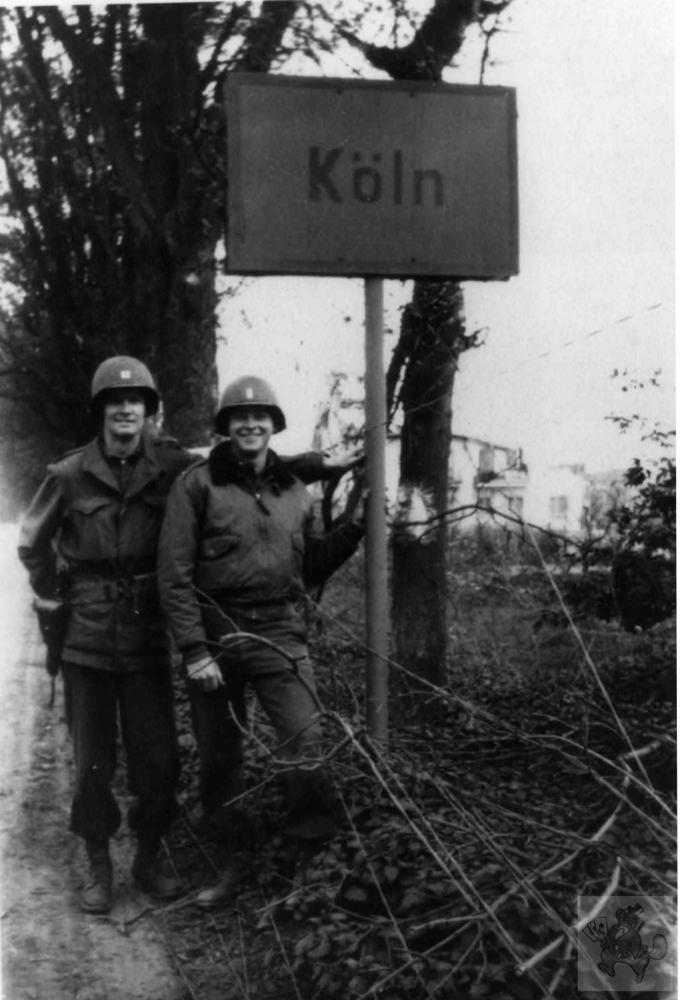 I flew combat missions flying in the L-4J and an L-5E in April and early May. I also flew a German airplane, Bü 181. I had a good mechanic - his name was Onanscevich.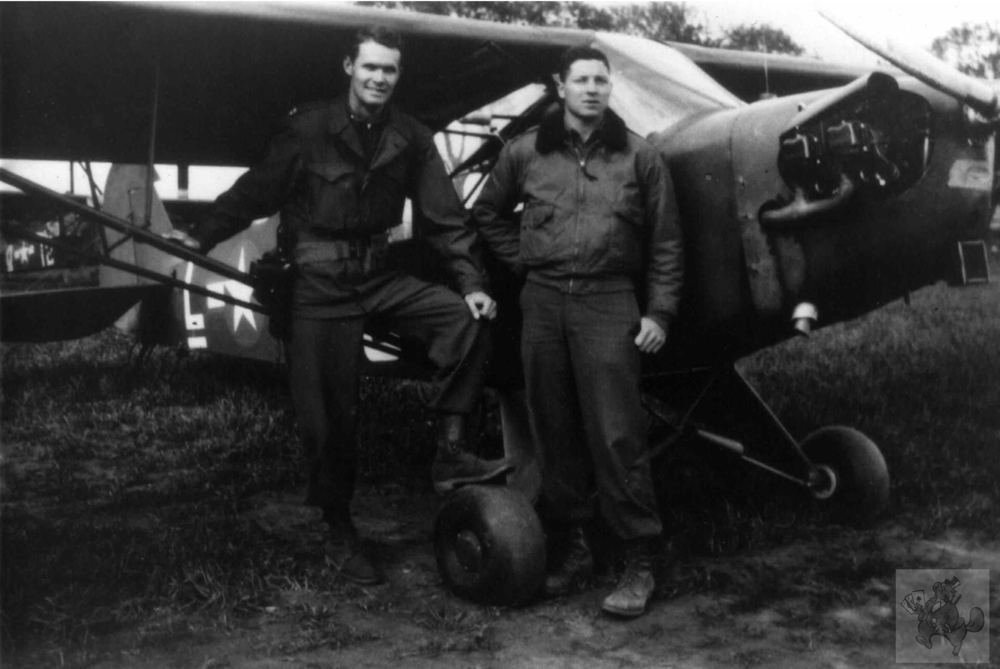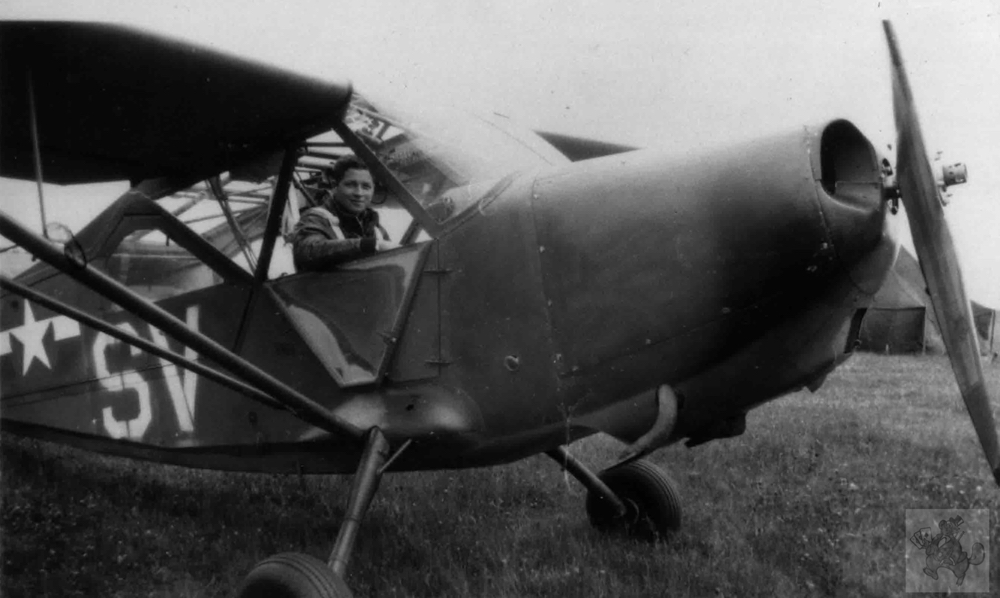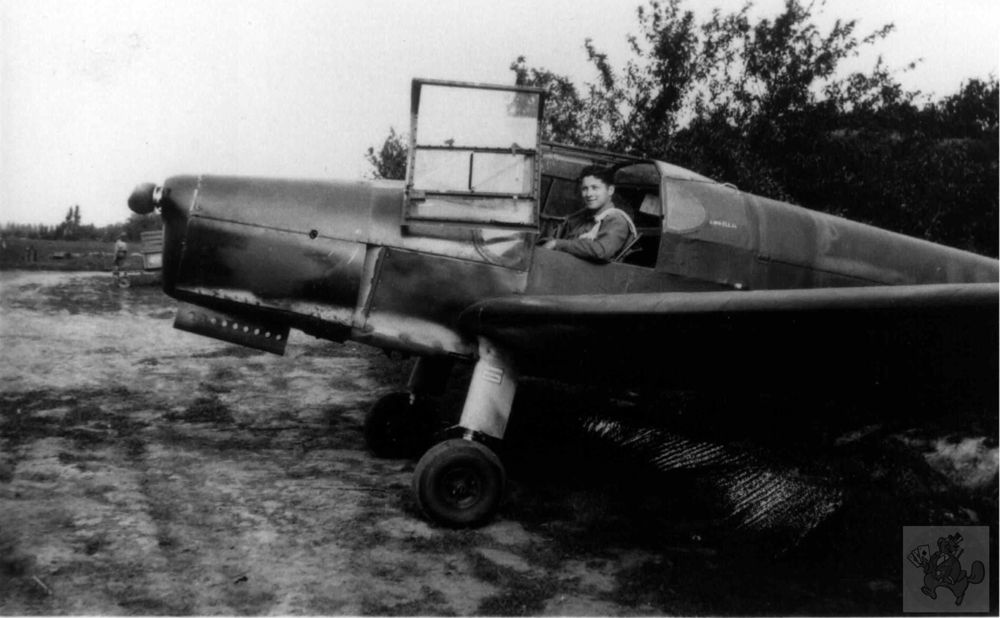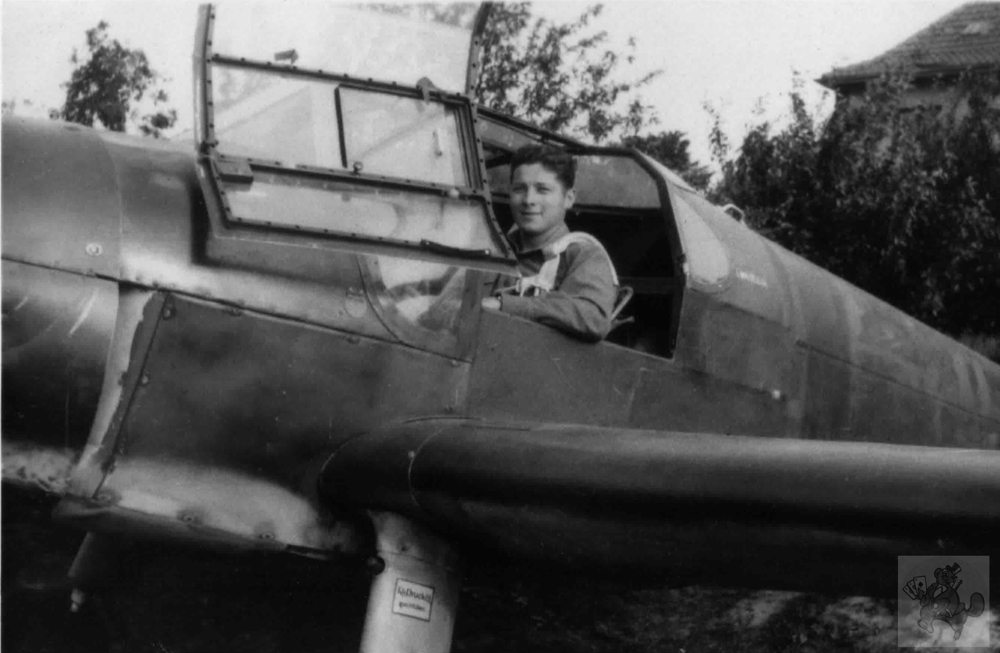 Our headquarters building in Cologne was down Aachener Strasse; that's the name of the thoroughfare that went into Cologne from where we were. The headquarters was in a big, German residence. It had been confiscated for the purpose of being a headquarters building, because it had a dining room, and you could have your planning sessions together there. It was a good place to have a group headquarters and occasionally we'd go there for a meal. That gave us an opportunity to keep communication with the headquarters people, but that wasn't the norm.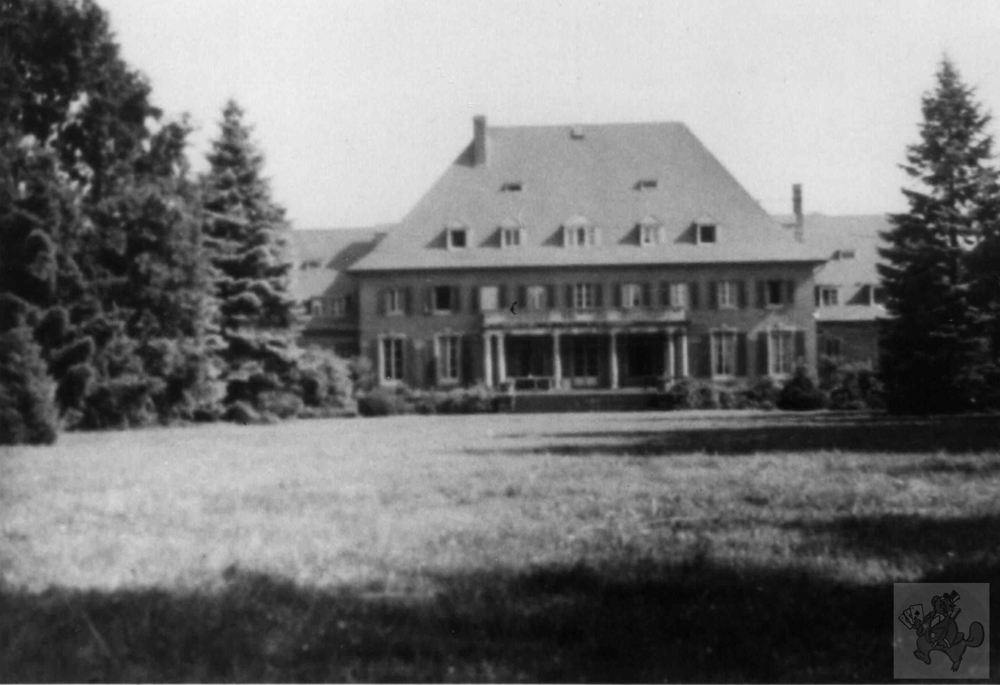 They called us "furry necks" because we had normal-issue aviator jackets that had a furry neck collar. So, our dress was different than all the other officers in the 417th Field Artillery Group. The other guys wore the Army jackets that they were issued. Of course, we had two or three separate distinctions: what we did as fliers and what they did as regular Army officers.
We were adjusting the fire that historically had been done by an officer who would be on the highest hill you could get to. He was the forward observer. Well, we were the air observer. We could do more than report what we saw, we could adjust the fire.
Here's how you do that: you identify a place by the fact that he's firing at you, or he's firing at your troops, you see him, and put an X on a map where you think he is. That's a latitude and a longitude that we give the field artillery captain who is in charge of the artillery pieces. They set up their gun for the deflection and for the range, and fire it. And you're up here looking and you see it go off, and you judge it by calibrating the width of your thumb, the width of your fist, and things that you have with you, to say (for example) that's 100 right and 600 short. So. you tell him he's going to go so many mils to the left. He knows what he thought that distance was, so he converts the 100 right to mils left. He adjusts it and then he elevates it a little bit because you said 600 short. You expect the next one, if you've done a good job, to land somewhere over the target and to the left of the target.
You want to give him a deflection and a distance that will get you a bracket. So, if you thought this was 100 mils right, and the next one lands about half as far on the other side, oh! It's about 50 left then. So he goes and readjusts it, and changes it in distance. And now you get one so close you don't want to give him more adjustment. You tell him, "Fire for effect!" Now instead of one shell you get 25 shells from 25 different guns. And that's firing for effect. Now sometimes it takes longer. The thing you learn when you're going to school 
is how to adjust accurately enough that you can bracket it, rather than get a shell here, and another shell, you're creeping up on it. You're wasting everyone's time and material. You've got to be bold about your movement.
And one thing you don't want to do is sit in one place very long for their antiaircraft to start shooting at you. The best thing to do is to pop up. "Pop up" means you've been going along and you give him the coordinates, and you get back down low behind trees and everything, so they can't see you while he's adjusting. And you say, "Fire at my command!" You know the time of flight of the projectile so you know that in, say, 15 seconds the shell is going to go off down there. You get yourself to a position where you can see it goes off, you judge what your next command is going to be and get back down. And they make that next adjustment, hopefully as few times as possible so you don't have to expose yourself too long.
The next aspect of it is that the Rhine River is flowing along there and it had a loop in it. So when we were trying to get high enough to see what the potential targets are, we're tooling along and we're exposing ourselves. The antiaircraft guy knows where you are because he has observers along the river. He knows the distance between you and the gun. So, you've given away your position. And that guy's pretty accurate. Thankfully, you're a moving target because even though the antiaircraft guy has got you in his sights, his gun has a lead in it, so that when it goes off, it will miss you. I think the reason why we didn't get shot down more—some people did—was those antiaircraft guns were designed for fast-flying fighters; 300 or 400 miles an hour, but we were going about 60, and we were low. So since the lead in the gun was set for fast-flying airplanes, they would miss. I think that they didn't provide any lead for anything moving less than 100 miles per hour and if they fired at us with no lead in the gun, it went off behind us even though we were slow. If you ever got any shrapnel, it was usually coming up from behind.
I remember going up on these early mornings, be first up and then they're going to shoot at you, until they found out that you've got more firepower than they did. We had a lot of firepower at our disposal. As soon as he fired, we marked him on our map. Later, after we learned a few things, we could put that mark and tell them to fire for effect right away and not do all this adjusting. And when they saw the immediacy of our bringing fire on them, they quit shooting at this lone airplane because we had the ability to annihilate the whole antiaircraft battery group. So, we gained superiority over them in any kind of a fixed position. If everything is moving fast, then you have to move with it.
This was Cologne. I can still remember the bends in the river there that we didn't like. We found out that's a bad place to be because they've got observers there seeing us and telling the gun exactly how far we are away.
We did not lose any of the aircraft that were flying in my outfit, the 417th Field Artillery Group.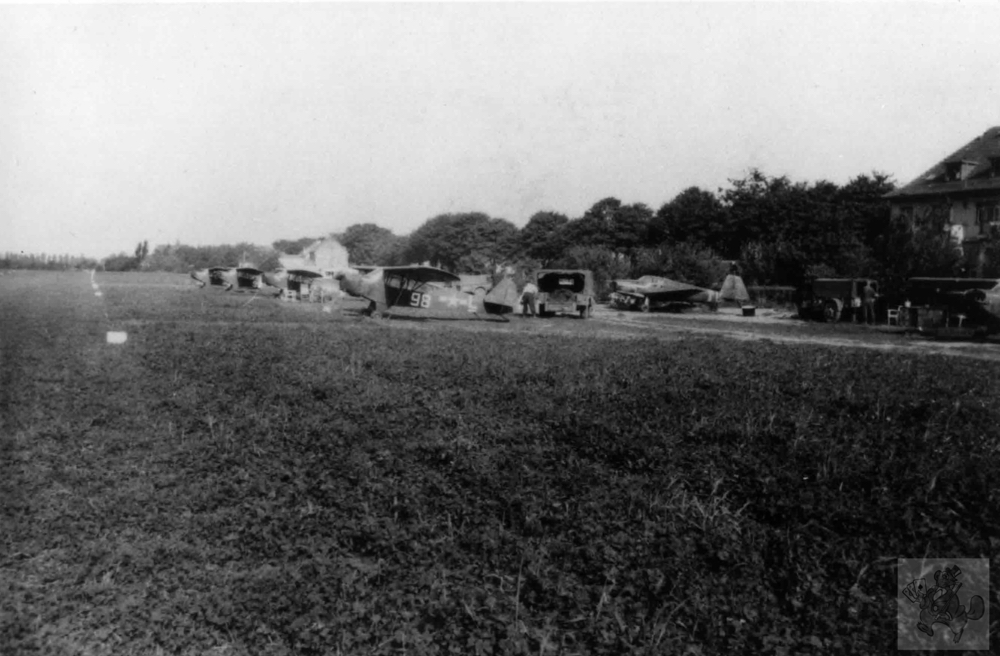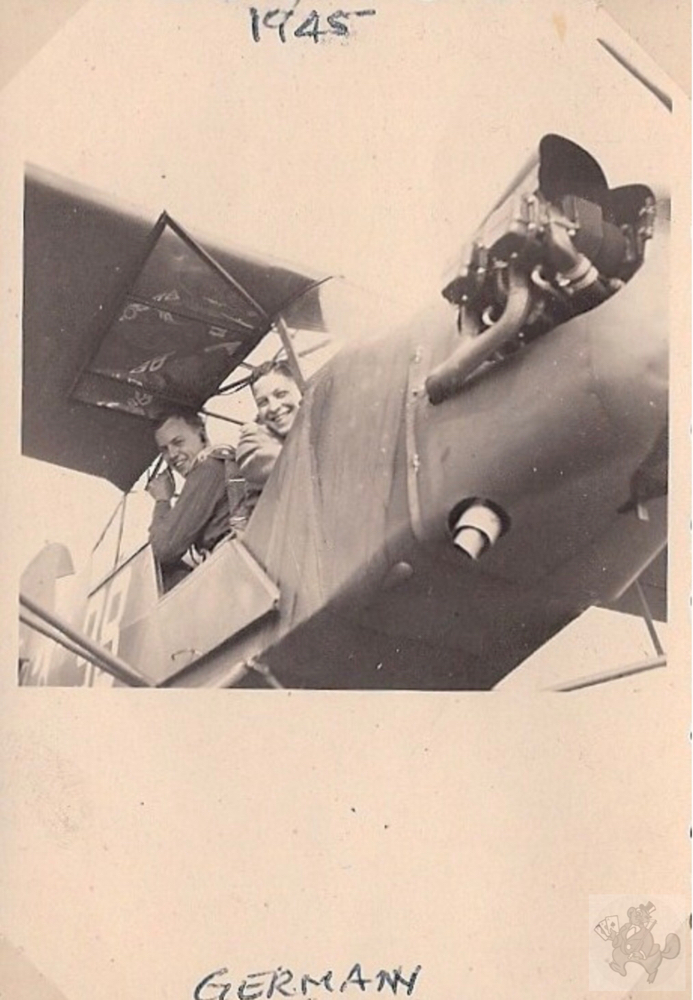 Interviewer: Did you have any close calls? RWT: Well, I think all of it was a close call.
Thirty-eight days, 45 hours in the air, and 60 landings. We were busy. We were working. We were doing our job and not expecting the war to end soon, and all of a sudden...
May 8 1945 (VE Day), I was 23 years old.
At that time, the US Army had to reorganize as to which troops would stay in Europe as occupation troops, that is the troops that would stay for some time to organize the Army's efforts. The war in the Pacific was still going on so they set up a point system with the organizations that had been in Europe the longest. They would be the occupation troops, and troops that had been in Europe the shortest would start moving to the Pacific. Our organization was someplace in the middle.
So, we left Cologne, Germany, to an assignment along the Rhine River down to the Danube and over to Czechoslovakia. We encamped near Grafenwö hr, Germany, which was the German government's artillery center. When we arrived there, we found a very large German artillery piece that was mounted on a railroad car, the railroad then was the recoil track of the gun. It was a very large diameter gun, about 36 inches in bore. I have pictures that show me sitting in the bore with my legs hanging out and also one with me standing in the breech of this very large gun. The height of the breech was about 7 feet. I could stand in it and reach up to the top. This gun was used by the Germans to reach fortifications completely across to the Norway peninsula. I don't know to what extent they used it, but before we got there, the Germanshad destroyed the gun by placing an explosive in the breech, and the picture shows how it's broken. It's easy to see how it's built.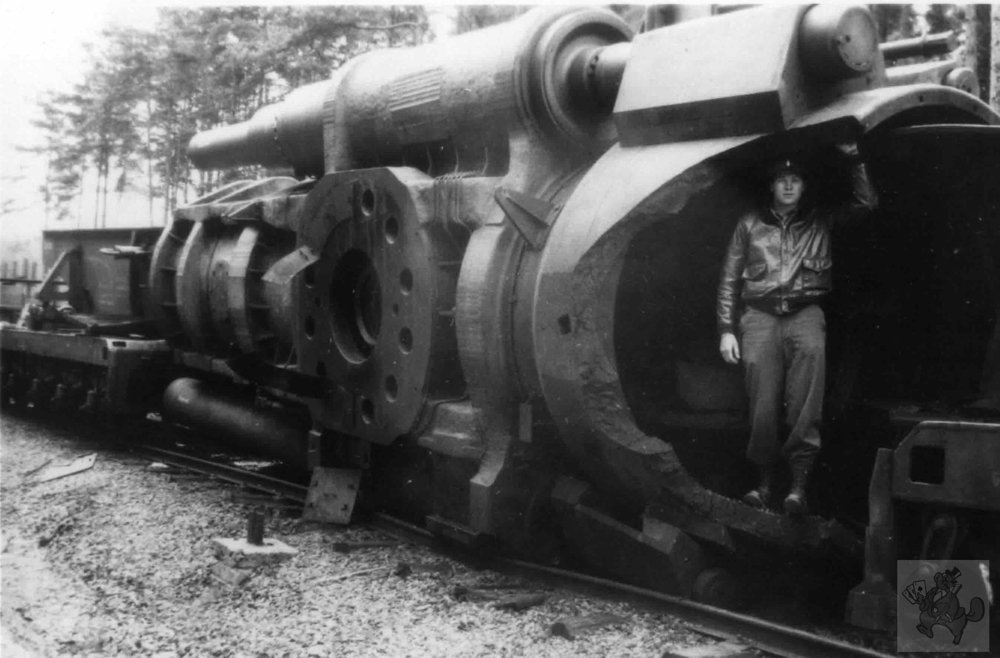 We were able to make flights from there over into Czechoslovakia, and they were celebrating the victory in all of the pubs and in all of the streets; they greeted us with great fanfare wherever we went.
We camped along the Danube River for a few days.
"Pursuant to authority and instructions of the War Department letter dated 16 June 1945: it is desired you take without delay action to prepare for shipment and move to the appropriate fort of embarkation for further assignment by water transportation to the United States."
Before the month was out, we were assigned and scheduled to go to the Pacific. On June 28 we arrived in Grafenwö hr. My last flight in Europe was July 5, 1945.
Our group found its way to France. At the Cherbourg Peninsula we were loaded on boats to return to the United States across the Atlantic. We were en-route across the Atlantic when the Japanese capitulated. The end of the war in August was announced on a loudspeaker on the boat as we traveled back. There was a great celebration on the boat; to the extent that we could celebrate, there was a great celebration.
As I recall, it was in daylight somewhere in the Atlantic, and it was another two days before we arrived in Boston. When we disembarked there, I can remember seeing all of the office buildings in Boston; people hanging out of the windows, waving towels and flags and cheering as though we were the ones that won the war. The poor guys who had done all the real hard work in Europe were still there, and here we are, receiving all of these accolades.
We were all excited, and we were all glad to be home, but we were also sort of feeling guilty about being cheered so lustily by people who didn't know that it wasn't us that had done all of the dirty work.
The discharge process was assigned on a point basis for the individual, not the company, not the group that you were in, but each individual. And it was based on several things, some of which were not announced, but we knew that it starts with how long had you been on active duty for the service.
By the time I returned, I was a Captain, and had been in the service for 3 1/2 years. I served the entire time in the same organization; it was never disbanded during the time I remained in the Army. By the time I was at Camp Gruber, there were not any particular duties for field artillery units to practice, but the availability of the airplane and the order to stay current was still in effect. I took the time to take cross-country trips in the airplane.
They gave the American Campaign in WWII Victory Medal to all of us. I was also awarded the Air Medal: "Richard W. Taylor, Field Artillery US Army for meritorious achievement as liaison pilot of the 417th Field Artillery Group while participating in aerial flights in Germany."